360 degree feedback works
Probably the most direct and useful information a person can obtain about how others perceive their effectiveness, 360 degree feedback is a powerful mechanism for informing personal development planning and individual training needs analysis.

To gain maximum benefit 360 feedback must be properly introduced and managed. At SR&A we have been helping clients to in initiate and run 360 processes for many years. We can advise you about the best way of putting 360 in place, and provide you with all of the tools and support necessary to collect the data, generate reports and feed back to participants.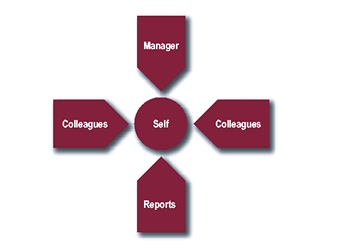 Elements of a successful 360 process
On the basis of our experience we know that the following conditions are necessary for 360 to be effective:

How SR&A can help?
Our highly flexible software systems allow us to design a 360 process specifically around your organisation's competency framework, and produce reports in custom format. Alternatively, we can offer a service based on a generic model of management competencies developed by SR&A for use in 360 degree assessment.

Click here to see a sample 360 Report

Our 360 degree service also offers:
Confidential submission of rating forms by email or online
Numeric ratings and free text reporting
Rigorous data entry techniques to ensure accuracy
Chasing of missing returns
Quality control of 360 reports
SR&A can provide feedback coaching for facilitators, or direct feedback to participants in 360 degree workshops.
We are also able to work with your organisation to facilitate work-based learning schemes, network learning groups, or mentoring arrangements to help ensure follow-through after completion of a 360 degree assessment.
Case Study 1
When Chorley Borough Council were seeking a way to introduce 360 feedback for service managers they wanted to break away from traditional competency models and reflect their recently designed model of core values instead. SR&A helped Chorley to devise a 360 feedback process based on these values which was successfully employed. The resultant model of behaviours that underpin the values is now used as one of the primary means of communicating how Chorley staff can contribute to their achievement. Read more . . .
Case Study 2
VW Group UK were dissatisfied with questionnaire-based approaches to 360 feedback as it proved difficult to secure feedback from very busy senior managers who were frequently away from their office. SR&A designed a telephone interview feedback approach that dramatically improved the return rate and resulted in richer, more informative feedback reports. Read more . . .
Case Study 3
Warrington Borough Council decided to include online 360 feedback in their Leadership Development Programme for senior managers. The requirement was to work with a subset of 6 'bullseye' competencies that were determined as particularly relevant for achieving the Council's vision of a high-performing culture. We worked in partnership with Warrington's change partners, CDP Opportunity to specify the required system and process, including a detailed communication plan for all stakeholders. We then delivered a bespoke online 360 feedback system that enables participants to take control over invitation of respondents and progress chasing.
The Head of Human Resources decided that 360 feedback should be provided in-house as part of the wider initiative for more open communication and feedback within the Council. We designed and delivered a training and support programme for a team of facilitators. The system has been successfully deployed, and around 100 participants will have completed their 360 feedback in the first year.